At Pathfinder, we donate 20% of our KiwiSaver management fee (out of our own pocket) to charity.

We've partnered with a carefully selected family of charities, each working towards a better, fairer, healthier, more inclusive or kinder world. When you join our KiwiSaver Plan, you get to pick one.

The more people that join our KiwiSaver plan, the more money these charities receive.
Choose A Charity to support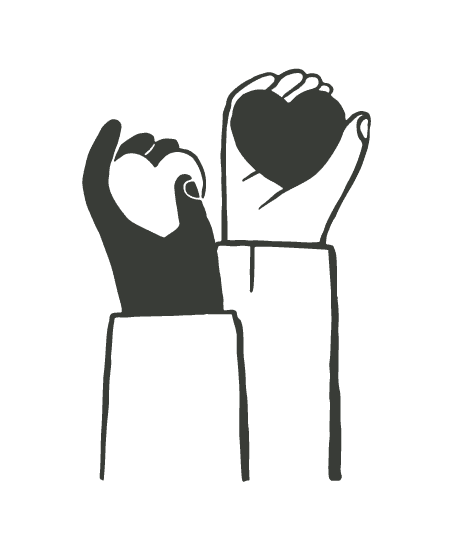 Promote good health for the men in your life.

It's important for men to express, because words have power. Men's Health Trust want men to live happier and healthier by offering campaigns and services that cover all aspects of mental health and wellbeing to encourage healthy choices. Promoting positive mental wellbeing and conscious, expressive actions that grow a better future for the men of Aotearoa and their whanau and friends.

Support crucial breast cancer research.

Breast Cancer Cure aims to ensure the next generation can have a future free from the fear of breast cancer through raising money for research. Focusing on women's health and well-being, Breast Cancer Cure supporters will fund crucial research that will save the lives of women in Aotearoa and the world.

Help individuals flourish.

The Mental Health Foundation works towards creating a society free from discrimination, where all people enjoy positive mental health and wellbeing. Supporting healthier lives and taking a holistic approach to mental health, the Mental Health foundation provides free information and training and advocates for policies and services that support people with experience of mental illness and also their whanau and friends. 

Invest in better and support individuals flourish. 
Join our KiwiSaver plan and choose the Mental Health Foundation as your preferred charity.

Save the whales.

Aotearoa's marine wildlife is incredibly diverse and includes many marine mammals that need our respect and protection. The Project Jonah team act as watchdogs to help create and enforce protection laws while also offering public education and awareness campaigns to inform people and encourage them to get involved. Their work includes building a team of Marine Mammal Medics who respond to stranded or injured animals to deliver essential first aid and fostering a love of the ocean to ensure Aotearoa's marine mammals are well looked after.

Help our hearts.

Our heart is our centre. The passionate team at Heart Kids work to support the 12 babies a week born in Aotearoa with a congenital heart defect. Providing information and lifelong care to them and their whanau helps to improve the health and wellbeing of those affected by a heart condition and builds a community and network of resources.

Care for our tamariki.

Helping tamariki and their parents grow and thrive by providing access to free health checks, a parenting helpline and local services, Plunket is a household name in Aotearoa. Supporting the Plunket Foundation funds the work Plunket does to build healthier futures for tamariki under-five and their whanau.

Develop joint support.

To have good health we must focus on full body wellbeing including healthy joints. Mateponapona Aotearoa Arthritis NZ provides free resources and information to help people impacted by all forms of arthritis live productive and fulfilling lives. Supporters of Mateponapona Aotearoa Arthritis NZ help fund peer support groups, arthritis assistance programmes and arthritis education.

Empower tamariki to grow, harvest, prepare and share great food.

Each week across Aotearoa, children are getting their hands dirty and learning to grow, harvest and cook seasonal food with the Garden to Table Trust. By engaging tamariki's curiosity, the Garden to Table Trust builds gardening and cooking skills while also building awareness of the individual and collective responsibility for the environment, healthy eating, community connectedness and inspiring a true love of good food through the curriculum.

Make a practical impact in the lives of oncology patients.

In loving memory of Kevin "Chalky" Carr, with a strong focus on making a practical impact in the lives of those living with a cancer diagnosis, the Chalky Carr Trust fund meaningful projects that support affected individuals and their families. The funds raised by the Chalky Carr Trust make a significant difference in the lives of those around them and includes work such as scholarships for students affected/impacted by cancer, an oncology car service and funding early detection research.

Inspire solutions to solve the climate crisis.

It's true; there is a climate crisis. The team at 350 Aotearoa believe in a safe climate and a better future – a just, prosperous and equitable world built with the power of engaged advocates. By engaging with communities all over the world, 350 is building a grassroots climate movement from the bottom-up that holds our leaders accountable to the realities of science and the principles of justice, ultimately uniting to create solutions that will ensure a better future for all.
Save our skin.

Aotearoa's sun can be harsh on our skin. Melanoma New Zealand provides education and information about all aspects of Melanoma to encourage Kiwis to take care of their skin. By advocating for increased access to quality clinical care and promoting skin checks for early detection, they aim to help people recognize melanoma early enough so it can be treated, rather than becoming life-threatening.

Foster a loving community for queer, gender diverse, takatapui and intersex rangatahi.

Whāia tō ake ngākaunui, i te pono, i te mārama. Know who you are, be who you are. RainbowYOUTH provides a safe, empowering space for takatapui rangatahi at individual, whanau and community levels. By providing information and advocacy, RainbowYOUTH aims to create social change and support Aotearoa's queer, gender diverse, takatapui and intersex young people.

NZ Anti-Vivisection Society

(NZAVS)

End animal experimentation.

The New Zealand Anti-Vivisection Society (NZAVS) is Aotearoa's primary charity defending animals used in science and they have been fighting to end animal testing since 1978. They work tirelessly to end animal experimentation and the harmful use of animals for science in NZ. Their work includes running campaigns to bring awareness to animal experiments, lobbying for legislative and systemic change and collaborating with stakeholders to create scientifically viable, animal-free, and non-harmful research and teaching methods.

Help young wahine achieve their epic potential.

To honour the memory of sporting legend Tania Dalton the Tania Dalton Foundation offers financial support (scholarships), mentoring and on-going personal development to unleash the potential of young, talented wahine. They also partner with other organisations to encourage developing positive mental health strategies in schools and donate sports equipment to deserving Kiwi clubs and schools.

Embolden Aotearoa's future leaders.

By equipping, inspiring and connecting future leaders, Leadership New Zealand has created a connected network of participants throughout Aotearoa who work together for a more just, equitable and sustainable future. Supporters help fund their Leadership program that works to strengthen participants resilience, navigate uncertainty and lead from purpose allowing them to make a positive difference in the communities in which they live, work and play.

Feed bellies (not bins).

Everybody Eats is a pay-as-you-feel dining concept that aims to reduce food waste, food poverty and social isolation in Aotearoa. They serve delicious, chef-prepared meals in a way that encourages diners to interact with one another and their volunteers. By sourcing their food from waste otherwise destined for landfill, they not only reduce food waste but also reduce the environmental impacts of sending uneaten produce to landfill. Help them to feed bellies, not bins.

Build a kinder, healthier world.

By encouraging plant-based choices through education, support and research, the NZ Vegetarian Society is creating an inclusive community with accessible information and resources. With a strong focus on ending animal cruelty and healthier lifestyles, supporters are helping preserve world resources and protecting the planet as every plant-based decision is making a difference. The NZ Vegetarian Society is for everyone, from those reducing their use of animal products through to those who identify as vegan.

Give nature a voice.

Nature's defenders, Forest & Bird, have been a voice for nature for over 100 years. They believe that if we are to thrive, nature must thrive too. Supporters help protect Aotearoa's unique wild places and wildlife by engaging in community events, advocating for environmentally friendly legislation and policies and encouraging protection and restoration of our flora and fauna.

Can't choose? Leave it to

Pathfinder.

Our Ethics Committee decides what to do with this donation. To decide, we consider: are there any gaps in our current giving? Are there any topical problems that need some extra support? In 2022 we donated $25,000 on behalf of members who wanted to leave the donation up to us to Women's Refuge. We did this because there were no charity partners dedicated to supporting women and we felt the impact of COVID and the financially challenging environment often has disproportionately negative impacts on women. Invest in better and allow Pathfinder to choose a worthy charity or charities for you.